Good Mood Food: Unlock the Power of Diet to Think & Feel Well!
Lift your spirits with these warming good mood food recipes – perfect for the darker nights…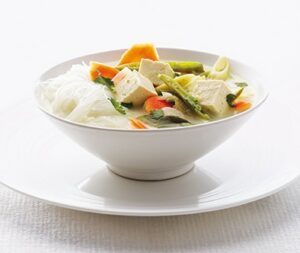 Thai-Style Noodle Soup
This recipe is an Asian-style soup that's a filling meal in itself – you can substitute the prawns with slices of fish, chicken breast, beef or tofu. If you decide to make extra for freezing, don't add the noodles into the frozen batch, instead, cook them at the last minute when you're serving it. This is a richly dense, antioxidant-packed dish, with the buckwheat noodles providing a great alternative to wheat noodles, because buckwheat is actually a seed rather than a grain. You could use rice noodles instead, but they are purely starch and miss out on the protein, antioxidants, minerals, vitamins and soluble fibre that buckwheat contains. They have very little fat, though, made up for here by the coconut milk, added for deep satisfaction and the immune-supporting antioxidant fat, lauric acid.
Serves: 4
Ingredients:
150 g (5 oz) Udon buckwheat noodles
extra-virgin olive oil, for cooking
2 teaspoons Thai green curry paste
2 cloves garlic, finely chopped
1 lemongrass stalk, sliced into 6
2½ cm (1") piece of fresh root ginger, sliced
250 g (9 oz) fresh prawns or tofu
8 baby corn, sliced
8 spring onions/scallions, sliced
2 carrots, peeled and sliced
12 mangetout/snow peas
1 x 400 ml (14 fl oz) can coconut milk
3–4 kaffir lime leaves
a few sprigs of fresh coriander/cilantro
Method:
Cook the noodles following the packet instructions, rinse well with cold water and divide between four large bowls.
In a large pan, heat the olive oil and stir in the curry paste, garlic, lemongrass and ginger. Add a tablespoon of water. Toss in the prawns or tofu and stir for a few minutes until they are pink and cooked through. Fish them out with a slotted spoon and lay them on the noodles.
Add the rest of the vegetables, including the mangetout, to the pan, stirring them in the spices for a couple of minutes. Pour in the coconut milk and add the lime leaves. Add a couple of canfuls of water, bring to the boil and leave to simmer for 12–15 minutes, or until the vegetables are cooked. At the last minute, stir in half the chopped coriander. Ladle the soup evenly over the noodles and cooked prawns/tofu and garnish with the rest of the coriander.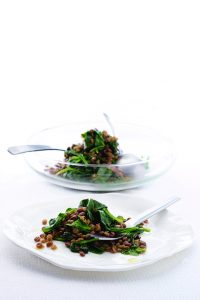 Lentils with Spinach
This Iranian dish was traditionally prepared in medieval times to heal the sick. However, it was said that the dish only acted as an effective cure if the ingredients were bought with money that had been begged for in the streets. It is a dense vegan meal or side dish that will support the adrenals and can even be eaten for breakfast, with full-fat plain yoghurt or coconut yoghurt. For those not eating eggs, fish, meat or dairy, pulses can provide bulk protein in the diet, but if you find they create gas or bloating (more common if you are stressed and digestion is struggling), cook them in a slow cooker/crockpot or add a stick of kombu seaweed to break down the starches present. This dish freezes well, which means you can always have something nutritious available.
Serves: 4
Ingredients:
250 g (9 oz) brown lentils
500 g (1 lb 2 oz) fresh spinach or 250 g
(9 oz) frozen spinach
½ teaspoon ground coriander
½ teaspoon ground cumin
1 clove garlic, crushed
pinch of salt and freshly ground black pepper
1 tablespoon olive oil
Method:
Put the lentils in a pan of cold water, bring to the boil and then simmer until they are soft – this should take about an hour.
Wash and chop the fresh spinach (or defrost if you're using frozen). Put the spices, garlic, pepper, salt and olive oil in a pan over a medium heat. Stir well for a minute before adding the spinach, then stir for a couple more minutes.
Drain the lentils, combine with the spinach and serve immediately.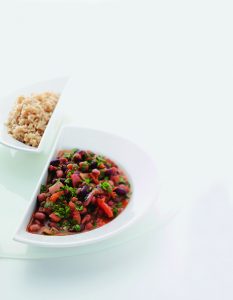 Spiced Bean Stew
Beans and pulses can be an important part of a vegan and vegetarian diet as they contain protein (around 25 per cent), but they are also a great starch alternative for everyone. This recipe is for a fast version of the traditionally slow-cooked stew, but if you prefer you can simply put all the ingredients into a slow cooker (crockpot) to increase digestibility – especially if beans make you gassy, which can affect brain clarity. The spices here are known to support circulation and protect neurons, as well as helping balance blood sugar, so this blend can be used as a blueprint for any brain-supporting soup or stew. For extra heat for circulation, ginger can also be added and you can spice up the beans further by adding a dash of chilli powder, which can really wake the brain up!
Serves: 3–4
Ingredients:
1 onion, chopped
2 cloves garlic, crushed
1 dessertspoon olive oil
1 teaspoon ground cumin
½ teaspoon ground cardamom
½ teaspoon paprika
½ teaspoon ground cinnamon
3 large tomatoes, peeled and chopped
2 x 420 g (15 oz) cans mixed beans, drained, or the same weight dried, soaked overnight
chopped parsley, to garnish
plain yoghurt or coconut yoghurt, to serve
Method:
Soften the onion and garlic in a large pan with the olive oil. Add the spices and stir well for a few minutes. Add in the tomatoes and then the beans, pouring in a can of water at the same time, and leave the mixture to simmer for at least 30 minutes over a low heat until the beans have softened and the stew has thickened.
Serve the stew garnished with a generous amount of chopped parsley
and a dollop of yoghurt.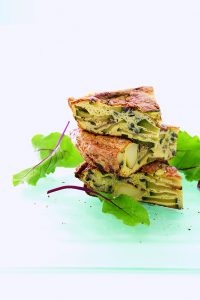 Frittata
Eggs are a truly useful food to support blood sugar balance, but also the adrenals with their dense protein and high nutrient content, including the B vitamins. Making a frittata is easy and quick, can be varied to suit your own taste – for instance, by adding any vegetables you like – and can last for several meals, including breakfast and a convenient packed lunch. Here we've included sweet potato as a starchy carbohydrate source for sustained energy that makes you less likely to turn to sugar or stimulants later.
Serves: 4
Ingredients:
150 g (5 oz) sweet potatoes, cut into chunks
1 tablespoon olive oil
1 red onion, finely sliced
2 courgettes/zucchini, finely sliced
Sprig of fresh thyme, leaves picked
salt and freshly ground black pepper
6 medium eggs
Method:
Put the sweet potatoes into a pan of boiling water and cook for 10–12 minutes until tender. Heat the oil in a large pan and soften the onion for 2–3 minutes without allowing it to brown. Add the courgettes, a pinch of salt, the thyme
and some freshly ground black pepper. Cook for another 3 minutes.
Stir in the cooked sweet potatoes and remove the pan from the heat. Preheat the grill.
Beat the eggs; although you can beat all six eggs together, the fluffiest frittata is made by beating four of the eggs whole, then whisking the whites of the other two, then folding the whites into the other eggs. Pour the egg mixture over the vegetables in the pan to evenly cover them. Cook on a very low heat for about 8 minutes, until the eggs are nearly set. Place the pan under the grill and cook until the eggs are completely set.
Slide the frittata out of the pan onto a plate and, using a fish slice, cut it into generous wedges. You can serve it as it is, warm, or later, cold. Serve with Proper Green Salad or Wild Tomato Salad.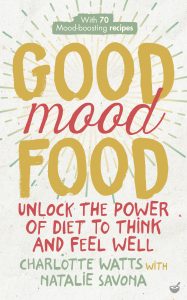 Find out more
Recipes taken from Good Mood Food: Unlock the Power of Diet to Think and Feel Well by Charlotte Watts and Natalie Savona (£10.99, published by Watkins Publishing on 20 December)