Creative Counselling: How to Counteract a Blue Christmas
In this month's Creative Counselling, Marie Bruce shares five unique and uplifting suggestions for a 2020 Christmas
by Marie Bruce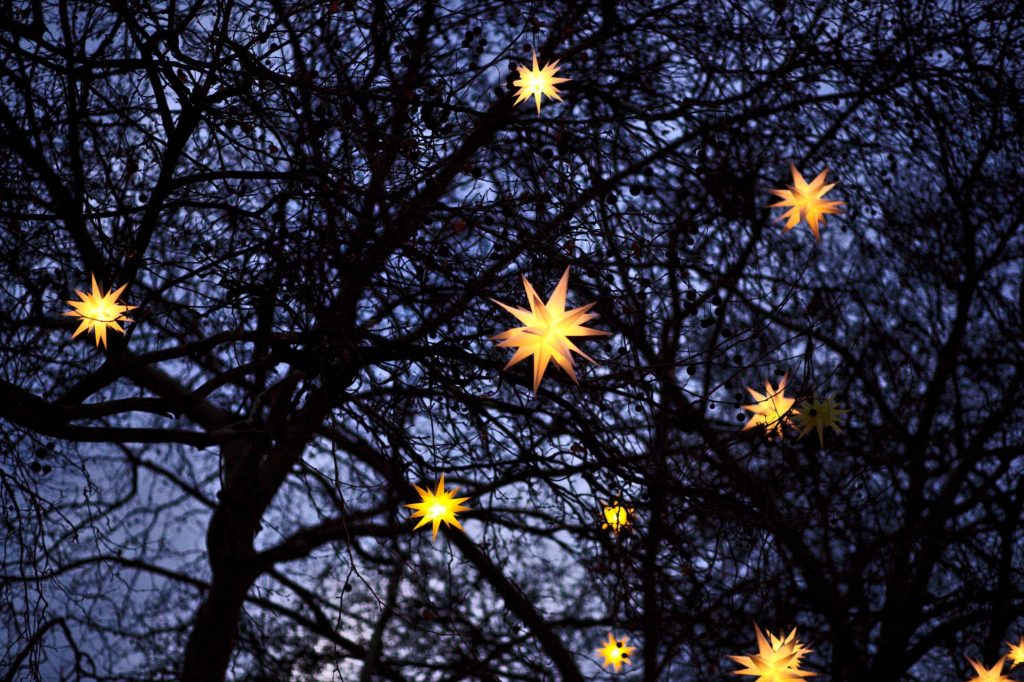 It is fair to say that no-one could have predicted how 2020 has played out, and that the impact of the coronavirus pandemic has been felt by each and every one of us to a greater or lesser degree. As the year draws to a close, with no real end in sight to the disruption, you might be wondering if there is any point in celebrating Christmas at all this year.
With pubs closed, shops and salons going out of business and large events cancelled, Christmas is going to look and feel very different this year.  There will be no big stars turning on the festive lights to the applause of large crowds in city centres, no ballets or pantomimes to attend, no carol singers going door to door, and quite possibly no visits to see Father Christmas in his shopping centre grotto.
How do you navigate the festive season when all the festivities have effectively been cancelled – or at least modified?  How do you explain to a small child that while Santa can still come down the chimney, his sack of gifts won't be as large because of reduced salaries and Granny and Grandad can't come at all because they are self-isolating?  It can feel very overwhelming, yet I would argue that we need to celebrate the festive season now more than ever, if only to boost morale.
In a way, the pandemic has highlighted just how spoilt we are as a society.  We are used to having everything on demand, to being able to drink and carouse until dawn if we want to, visit family and friends on a whim, and now suddenly, all the fun seems to have stopped – yet it is still deemed safe to go to work!  It's hardly surprising that people are getting fed up, as all work and no play adds up to a miserable life.
Whatever restrictions you need to adhere to, it is important to make the best of things, and while your celebrations may have to be on a smaller scale than usual, taking time out of the daily grind and enjoying the winter festival season is as much about self-care and good mental health, as it is about any religious ceremony.
This could be a great year to take a slow-living approach to the festive season. Instead of feeling the pressure to go out gallivanting to parties full of people you'd rather avoid, you get to stay at home with those you love.
In the past, Yuletide was celebrated in a much quieter way, because they just didn't have all the bells and whistles of technology then.  Travel was more difficult too, with harsher winters and horse power being literal – four hooves plodding through the snow.  It was a time to bunker down with immediate family, gather around the fireplace and make your own entertainment.  We can learn a lot from our ancestors and as the modern Christmas seems to have been hijacked by the pandemic, taking a slower, smaller, home-based approach to the season this year can help to give this Christmas a deeper meaning.
Here are a few tips on how to enjoy the winter festivities the old fashioned way during this extraordinary year of isolation, hibernation and restriction.
Make a 2020 Christmas Time Capsule
Fill an old shoe box with items that represent this history-making year: a face mask, hand sanitiser, samples of wrapping paper, copies of cards sent to absent relatives, a video disk of family celebrations etc.  Make a box that will be a positive reminder of how you came together as a family, in spite of the current crisis, then seal it with tape and save it for another future Christmas, when your children have children of their own.
Start Mumming
Revive the old mumming tradition by putting on a family play or performance of some kind.  The theatres might be closed, but you can have fun and frolic putting on your own family show.  Or perhaps you could do your own version of Britain's Got Talent – The Johnson Family's Got Talent, perhaps – with each member of the family showing off their own skill for upload onto the family's social media platform.
Ghost Stories for Christmas
Forget Halloween, it was traditionally Christmas which was the time when families gathered around the fire for a good ghost story.  You can revive this tradition in many ways – by reading age-appropriate ghost stories by candlelight, watching a spooky film, recounting local ghost stories as you go for a walk in the woods, or writing your own stories as a family. Remember too that one of the most famous Christmas ghost stories of all, A Christmas Carol, was written by Dickens to get him out of a financial crisis and was entirely motivated by his impending poverty!  Its huge success was a welcome surprise and the modern Christmas just wouldn't be the same without Scrooge and his ghostly friends.
Go Wassailing
Adopt a tree in your local area or garden and wassail it, by pouring ale or cider at the roots to nourish it and encourage new growth in the springtime, whilst singing the wassail carol as you hold hands and circle the tree.
Offer Your Time
Whether it's taking the time to regularly phone an elderly neighbour, taking calls on a helpline, working in a soup kitchen for the homeless, or delivering food parcels to those in need, volunteering can be extremely rewarding and a positive use of your free time.  Not only does it help others, volunteering is also good for the mental health of the volunteer, as making a positive difference in someone else's life releases the feel-good chemicals in your brain, so it's a win-win situation.
So there you have it – five uplifting ways you can rescue the fun and frolic of the festive season, so that no matter how the pandemic is affecting your local area, you and your family won't need to settle for a Blue Christmas after all.
For more tips on how to navigate a tough festive season, check out my Creative Counselling column from December 2019 too.
Bright blessing on you all, until next month,
Marie Bruce x
---
About the author:
Marie Bruce Dip. T.C. MBACP is a qualified psychotherapist, Cruse Bereavement Counsellor and best-selling self-help author. She specialises in grief and loss counselling, PTSD and military counselling, and life coaching.
In this monthly column, Marie offers simple tools used by therapists to help clients and readers improve their mental well-being.
Marie's books are available on Amazon UK.
More from this author:
Creative Counselling: Professional Jealousy
Creative Counselling: Shadow Work