Kindred Spirits in Conversation – Claire Gillman and Chrissie Astell
Angel expert and spiritual educator, Chrissie Astell talks to Claire Gillman.
Chrissie has been prominent on the scene with her Angel work for many years, and we were lucky enough to be able to unravel her experiences and motivation for Kindred Spirit…

Claire: When did you start working with angels?
Chrissie: I think probably from childhood. I had a very strange, almost wild, childhood. I was very  free. I was brought up by my grandma. And she believed in fairies. She believed in angels.
And so, it was always there. I was taught to say my prayers. I was taught to have faith. I was taught that there was always a positive way of looking at things, and life is as good as you make it. So, that was very much part of my upbringing. And then, when I lived here down in London from the age of 17, so many things happened—and really, quite a few serious things. And I knew I was being looked after. People used to say to me, "You must have a guardian angel."
And then, life progressed. I went through quite an unhappy time. And during that time, I was led back to the angels by a lady who did Aura Soma. And the bottle that I was very drawn to was an Archangel Uriel bottle which is the bottle which is meant to be the guardians of the gates of heavens. But at that time, I was very troubled. I was in a very bad place. I left this lady, went outside, and said, "Okay, angels, if you brought me here, then get me out of this mess", you know? And really, from then, I started to count my blessings. I started to look for the positive in everything. I completely changed my life. I took up angel healing. I've done my own practice with the angels, with the angels. I brought the angels into my life full-time.
Claire: Do you think that's enhanced your experience with the angels?
Chrissie: It definitely enhanced it. Yes, it did.
I went back to nursing, but I was also practicing the angel healing. I had joined a group of people called the New Essenes who believed in the teachings of the wonderful teacher of righteousness who we relate to Jesus Christ, but who believed in all the angels in a very practical way. So, I was relating the practicality of the Essene angels with all these beautiful archangels and theosophical angels that I really looked into and believed in. And so, I was nursing during the day and doing double shifts. And then, on Saturdays, I was running angel workshops. And I was selling things. I was doing these funny things called the Angel Parties. It's a bit like Tupperware, but with angels instead of plastic containers.
I was teaching people meditations. I was teaching them how to connect with their guardian angel. And I had these little things to sell. So, I had little sparkling pins of angels and things like that. And I decided to take them into work and I gave them to the nursing staff and the laundry staff to wear little guardian angels on their shoulders. It was interesting because I sort of became an angelic evangelist. I was introducing everybody to angels at the time, telling everybody they could talk to their angels.
Claire: And could they talk with their angels?
Chrissie: Well, I have shifted in the last 20 years because I think, yes, but you have to have the right intention. It's no use thinking like a child does; that you just leave a wish list for Santa Claus and all your wishes come true.
The other thing with angels is about, "How may I serve? Why am I here? What's my purpose? And how can I help the angels by being here on Earth?"
Claire: So, it's not what can they do for you?
Chrissie: Well, it's a two-way thing really. We need to raise our vibrations. It's all about the light within us. And the light vibration needs to be a high frequency for the angelic beings to be visible to us or to be tangible, if you like, within that atmosphere.
It isn't as easy as people think where angels simply come to us as we need them. And look, we have lots of disasters happening all over the place. It's heavy energy, really heavy. So we have to meditate. We have to raise our vibration. We have to have a good intention and an open heart. Then the angels come close.
It's not about, "I need this, I need that. I'm never going to get better. My life isn't very good." That's the wrong attitude. I do get people writing to me saying, "Well, the angels don't help me," and I have to write back and say, "I'm really sorry to hear that." Well, it's very hard because you don't want to be patronizing, but you want to say to people, "Open your heart, and see what you can do for other people." And then, the more you do for other people, the more you do to serve God, or the Light, or whatever you want to call it, the more obvious it becomes that the angels are with us all the time. Things just seem different, moving different and…
Claire: Tell us about what you do on your workshops?
Chrissie: My workshops are very practical, believe me. It's very experiential work. If you can't feel it, and you don't get it, how can you put it into practice? So, most of my work is experiential. I love for people to feel it themselves. I love for them to sit in meditation with me and be guided and just see if they can sit with it and feel it. As soon as you start feeling it, then you know it's real.
So, yeah, I do teach them lots of funny things where they feel the energy for themselves and lots of funny exercises where they can practise that interaction. And then, they begin to realize what amazing, amazing beings we are. Human beings are just fantastic.
Claire: And you also have the role of a spiritual educator. Tell us about that.
Chrissie: I do! It's very interlinked. I work with seven major archangels. And I like to try and encourage people to look deeper into themselves, to grow, to develop. I feel the more we develop as people, the more spiritual we become, and the easier it is to connect with the other sources of light—angels, angelic beings, guides, ascended masters. Whatever it is that you're interested in, it becomes easier once you start to realize it's all about you developing yourself.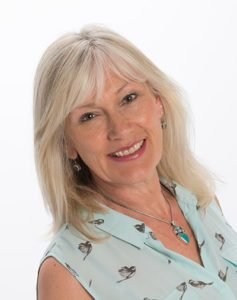 Chrissie Astell  is a best-selling author and ward-winning spiritual educator, who runs courses, workshops and retreats around the world. She has recently published The Guardian Angel Oracle cards with Watkins Publishing. Find out more about her work and download a free guided visualization at www.AngelLight.co.uk